Special Issue of mediecal Archaeology
Posted On: October 12th, 2017
---
The Society for Medieval Archaeology is delighted to announce that this year we will publish a special, online issue of Medieval Archaeology.
The special issue will be an online issue only in celebration of the 60th anniversary year. The Editor, President and Secretary are selecting a number of papers which sparked new debate or seminal discoveries from the past 60 years of content.
It will be released as a special issue with a short editorial, available online from November 2017.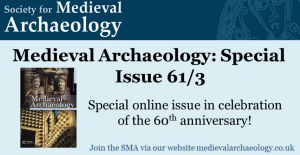 Latest News
---
CALL FOR PAPERS Medieval and Later Pottery Research Group Three-Day Conference, 7–9 October 2022 Grosvenor Museum, Chester The Late Show: Exploring Pottery of the Early Modern and Later Periods To celebrate our recent name change, this year's Medieval & Later Pottery Research Group conference will focus on pottery of more recent periods. In the
Issue 66.1 of Medieval Archaeology has now been published online and the print copy will soon be arriving with members. Follow the link to Tayor and Francis to read the journal online: https://www.tandfonline.com/toc/ymed20/66/1?nav=tocList
As one part of the upcoming Events for the Society for Medieval Archaeology, we are happy to invite you to virtually attend parts of a workshop on medieval households on June 16th and 17th. Supported by both the Medieval Settlement Research Group, and the Society for Medieval Archaeology as well as the National Monument Service and Transport
Details here: https://www.jobs.ac.uk/job/CQC669/research-associate-archaeology 
SMA On Twitter