Vice President
---
Martin Carver BSc FSA Hon FSA (Scot)
Biography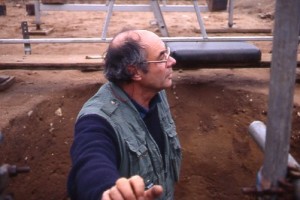 Army Officer 1958-1972
Commercial archaeologist, England, France, Italy, Algeria 1973-1986
Professor of Archaeology, University of York,  1986-2008
Editor of Antiquity, 2003-2012
Visit Martin's staff profile at the University of York here.
Research Interests
Martin researches the origins of European kingdoms and states, with major projects in West Midland towns (1975-1986), in towns of south west France and North Italy (1980-1986), at Sutton Hoo (1983-2005), at Achir Algeria (1980-82) and at Portmahomack, NE Scotland (1994-2012). All these concern the period 5-8th century AD.
He is also interested in how fieldwork serves the big research questions.
Selected Books
Arguments in Stone. Archaeological Research and the European Town in the First Millennium
(Oxbow 1993)
The Birth of a Borough. An archaeological study of Anglo-Saxon Stafford (Boydell 2010)
Sutton Hoo Burial Ground of Kings? (British Museum, 1998)
Portmahomack Monastery of the Picts (Edinburgh University Press 2008)
Archaeological Investigation (Routledge 2009)
Making Archaeology Happen (Left Coast Press 2011)
Selected Edited Books
The Age of Sutton Hoo
(Boydell)
The Cross goes North (Boydell)
Signals of Belief in Early England (Oxbow)